I had been in smoke filled rooms before. Clubs in Melbourne before the smoking ban came in. Divey Izakayas in Shibuya where old salarymen avoided going home after work. None of those really compared though. Something bout 40 years of smoke, hitting the velvet curtains running up and congregating on the ceiling is something else. You could almost feel every cigarette that had ever been smoked in that room.
'I absolutely love it here.' I proclaim, knowing full well I haven't smoked a cigarette in anger in about 10 years and that the air was so warm I'd be pining for fresh air within 30 minutes. 'This is a Japan I'd have never have been a part before now.'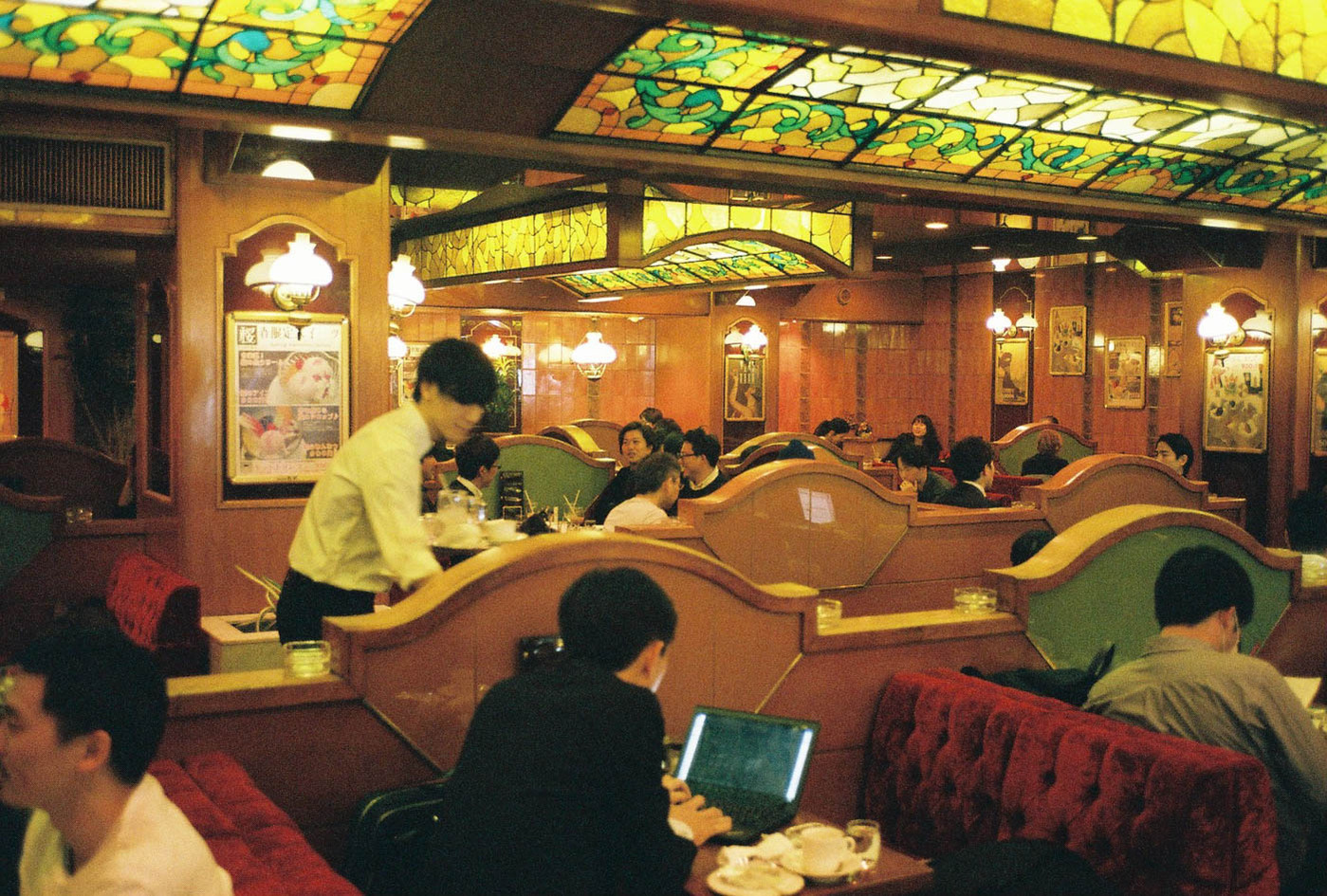 Green and Yellow stained glass windows gave an uneasy tinge to the room through the lights behind them. Wood veneer on the walls added to the 70s vibe that were no doubt stylish of the time. Opaque art deco shaped light fittings jutted out from the walls. The richests of red velvet cushioned booths accented it all and the hum of conversation, laughter and thought of the patrons lingered through the haze of cigarette smoke.
A manga artist was having his work critiqued by his business manager sat in the booth next to us. On the other-side, an older man smoked and drank coffee only ever engaging who I presumed was his daughter ever so often with a wry comment or conversation. She sat leaning away from him, but never dived so far away from thought that she would miss his comment.
Classic black coffee was served on a plain porcelain tea cup, with a tiny brass spoon to mix your cream or sugar in. I ordered a black chocolate cake out of the hazy glass cabinet at the front. Unsurprisingly it tasted like it was from the 70s but I still enjoyed it.

We stayed for roughly 3 hours, talking, laughing and thinking like so many of people before us. I've never felt more pleased to contribute to the history of an establishment… me, white, foreign, a stranger. I sat there, the same as those who did 40 years ago and felt like I belonged.